Hi,
Quite nice for the price...
Quanum Trifecta
KDA20-50s (because I had them from a "warthox Y6")
8055 CFK-Props (HK T-Style)
blue series 12A/blheli 13.1 (timing high, damping light)
3s 1250mAh 25C
"bad/cheap" sparky, chibios/oneshot125(1-2-4, servo at 3),MPU rate 666Hz (1k not possible with the escs), compiled with mpu orientation 270deg
FrSky D4R-II
HC-04 BT modul
Mobius
alltogether 560g, ~10 Minutes inc. autotune and some dives through the swingset.
The "magic" to fit 8" props is to mount the top part reversed.
I fitted the voltage prescalers for sparky/frsky directly to the pdb: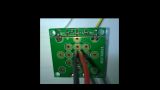 Still foldable, fits a pelicase 1400. I just need to find the "safe place" where I stored the cubic-precut foam which came with the case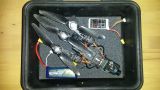 Now the bigger brothers need some dedusting/rework for summertime...